Faculty of Informatics
Chair of Informatics 19
Software Engineering for Business Information Systems (sebis)

Technical University of Munich
Boltzmannstraße 3
85748 Garching, Germany


phillip.schneider [at] tum.de

Room FMI 01.12.055

Office hours: by appointment
Curriculum Vitae
Phillip Schneider is a research associate at the chair of Software Engineering for Business Information Systems at TU Munich since November 2020. He holds a master's degree in Information Systems from Goethe University Frankfurt. During his studies, Mr. Schneider visited the Computer Science Department of the University of Helsinki. He also gained international work experience at leading companies in the tech industry, such as IBM (Brussels) and Amazon (London & Luxembourg).
Open Thesis Topics
I offer thesis supervision for motivated students in the research areas listed below.
If you have a topic idea or are just generally interested, contact me via e-mail with your CV and transcript of records.
Open Student Positions
I am currently looking for a student assistant to support me with my research . Please refer here for more details.
Recent Talks
Middlesex University Dubai, Google Developers Student Club
Holtzbrinck Publishing Group, Holtzbrinck Technology Day
Research Interests
Natural Language Processing
Conversational Interfaces
Information Retrieval
Exploratory information search
Knowledge Graphs
Knowledge Engineering
Research Projects
Conversational Graph-Based Navigation Over Semantically Connected Content (COGNOSCO)

In cooperation with Springer Nature, the COGNOSCO project (from Latin cognōscere: to discover/learn/know) aims at investigating conversational search systems that enable explorative navigation through knowledge databases. Through the combination of Natural Language Processing and knowledge graphs, the interactive search process is realized by text-based, information-providing dialogs. Click here to read more ...

AI-Based Digital Health Assistant (ALPHA-KI)


The purpose of the digital health assistant ALPHA is to make the everyday life of chronically ill people healthier, safer and more entertaining. ALPHA comes in form of a smartwatch that is always worn on the body. As a voice-based device, it is controlled through natural language alone. The overarching goal of this research project involves four AI-related focal points. Click here to read more ...
Completed Projects
Autonomous Company

The idea of this research project is to investigate how Artificial Intelligence and Big Data can be exploited to establish fully-automated software engineering
project management processes, including project acquisition, agile project management, and project completion. This research project is performed in close
collaboration with our project partner Motius GmbH. Click here to read more ...
Blockchain Technology for International Student Mobility

In cooperation with RWTH Aachen University, a feasibility study about blockchain technology for international student mobility is carried out. Different use
cases on how blockchain can optimize and automate the current recognition processes at two faculties are evaluated. Based on this evaluation, one scenario
is selected to be implemented as a prototype system, demonstrating the capabilities of such a blockchain-based process. Click here to read more ...
Other News
In the upcoming summer semester 2023, the sebis chair is offering the 2nd Conversational AI Workshop. The workshop includes an introduction to state-of-the-art technologies for conversational agents as well as an opportunity to design your own agent with the help of your advisors.This is a certificate course, so upon completion, you will receive a certificate of participation and increase your chances of doing a NLP-related thesis at sebis. Additionally, successful completion of the workshop will give NLP seminar students a 0.3 grade bonus. More details can be found on the

workshop's webpage

. If you are interested in taking part in this workshop, please contact me with

subject: Conversational AI workshop

.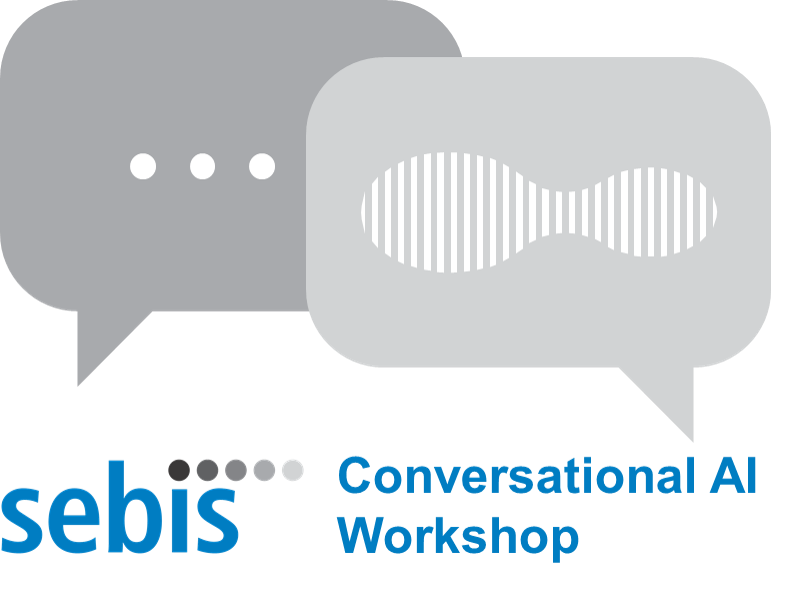 Teaching