Scenario-based Analysis of Collaborative Enterprise
Architecture Management Tools
Abstract
Major challenges in the domain of Enterprise Architecture Management (EAM) are quickly changing enterprise environments, unclear and frequently altering requirements, and lack of communication among stakeholders. The collaborative EAM approach tries to meet these challenges by integrating collaborative aspects and simplify processes. Previous research in this field of study focused on organizational issues. Behavioral patterns and organizational structures for collaborative EAM exist. So far, however, there has been little discussion about technical assistance for collaborative EAM.
This master's thesis analyzes potential software tool support for collaborative EAM and evaluates collaborative aspects of existing EAM tools. Collaborative characteristics of EAM tools are derived. Tool functionalities that support and enable collaborative EAM are disclosed. A new tool category, called collaborative EAM tools, is identified. The theoretical findings are verified by a scenario-based analysis. Four EAM tools are evaluated and compared with respect to their functionality and collaboration capabilities.
The theoretical analysis shows that collaborative characteristics can be integrated into EAM tools to improve communication among stakeholders and reflect frequent requirement changes. Among the evaluated tools, only one solution implemented all theoretically identified collaborative functionalities. These findings indicate that collaborative tool characteristics can improve EAM performance and that these characteristics are barely implemented in today's EAM tools.
Keywords: collaborative EAM, EAM tools, tool evaluation, collaboration, lean, agile, Enterprise 2.0

Problem description
Missing communication among stakeholders, unclear demands, and changes occurring at high pace are major problems that are addressed by the collaborative EAM approach. Existing research in this area focuses on organizational structures and methods to reduce complexity, to create flexibility to react quicker to environmental changes, and to allow advanced stakeholder interaction. Software tool support for collaborative EAM has not been examined yet. EAM tools that integrate collaborative characteristics may support in coping with these challenges and thereby, increase performance. In this work it is examined how EAM tools can support the collaborative EAM approach.
Research approach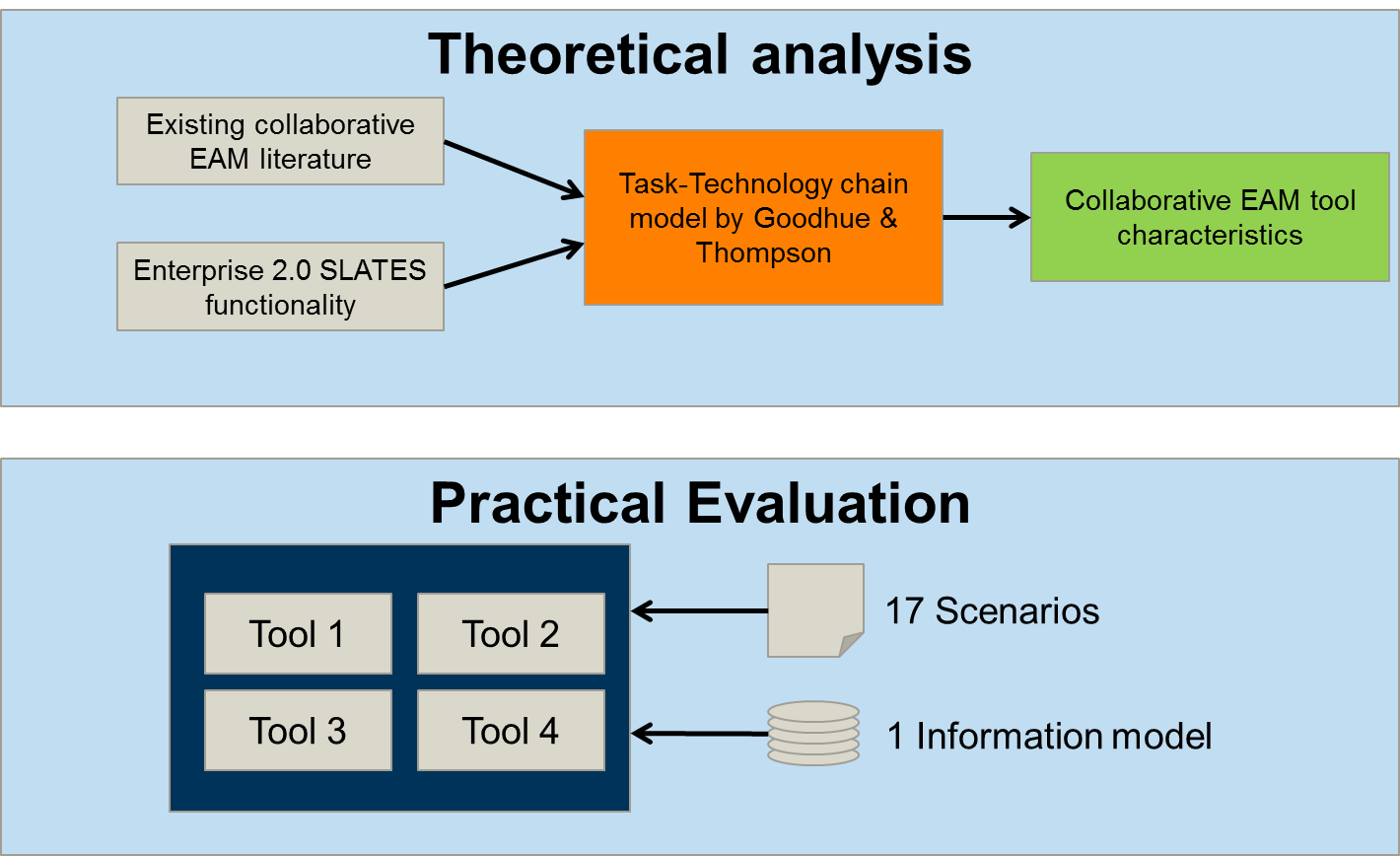 Collaborative characteristics of EAM tools are derived by applying the Task-technology chain model by Goodhue & Thompson. Based on existing literature on collaborative EAM and Enterprise 2.0 SLATES functionality a task-technology fit between EAM tasks and collaborative technologies is identified. Collaborative technologies that cause a task-technology fit can be characterized as functionalities that can be included into EAM tools to increase performance. Moreover, four existing EAM tools are evaluated based on 17 scenarios with respect to collaborative characteristics.
Findings
The following collaborative EAM tool characteristics were identified:
| | | |
| --- | --- | --- |
| Characteristic | Purpose | Implementation options |
| Search | Quick and easy content access | Well-positioned search bar |
| Links | Links Interconnection of architectures and objects | Linked objects provided through drop-down lists, social bookmarks |
| Authoring possibility | User-based knowledge gathering | Comment and feedback functionality, blogs |
| Tag feature | Structured content | Tagging service |
| Signal feature | Notifications on EAM updates | Feeds, subscriptions, user notifications |
| Lean User Interface | Effective and easy to use EAM tool | Simple user interface with good usability and reduced complexity |
Some exemplary findings of the EAM tool evaluation are shown below. Snapshots of implemented collaborative characteristics in the EAM solution leanIX are illustrated.

Newsfeed in leanIX: users get notified about recent changes and EA developments.

Open topic functionality in leanIX: users can discuss about objects, solve problems and share knowledge.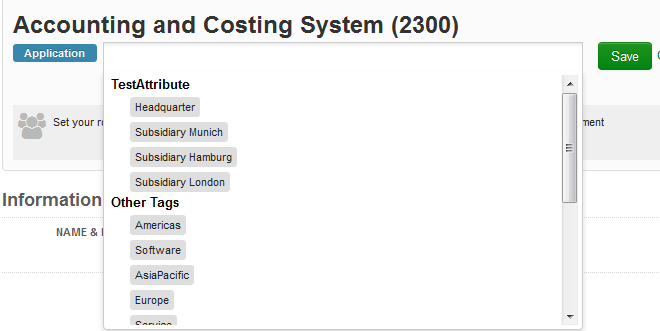 Tag functionality in leanIX: users can tag objects on-the-fly and thereby, create individual structures that can be reused.
Relevant literature
Bente, S.; Bombosch, U.; Langade, S.: Collaborative enterprise architecture: Enriching EA with lean, agile, and enterprise 2.0 practices. Morgan Kaufmann. Waltham, MA, USA. 2012.
Hauder, M.; Roth, S.; Schulz, C.; Matthes, F.: Organizational Factors Influencing Enterprise Architecture Management Challenges. In ECIS 2013 Completed Research. 2013
Keuntje, J. H.; Matthes, F.; Buckl, S.; Schweda, C. M.: EAM-Werkzeuge. In (Keuntje,
J. H.; Barkow, R., Ed.): Enterprise Architecture Management in der Praxis. pages
189–213. Symposion. D ¨ usseldorf, Germany. 2010.
Matthes, F.; Buckl, S.; Leitel, J.; Schweda, C. M.: Enterprise Architecture Management
Tool Survey 2008. Techn. Univ. München. München, Germany. 2008.